MY GOAL
To run 100k (approximately 60 miles) on May 21st, 2023 to raise awareness for the Children's Miracle Network (CMN)... & to raise $100,000 for CMN by midnight on that exact day as well.
BUT to try to start raising funds this year, I've added another community event to this fundraiser which will take place on October 9th, 2022, which will be called the Yakima Summit 100K Kick-off.



THE WHY
Why did I get involved in this? Our first child, Ryder, spent time in the NICU, and I can never, ever truly repay the nurses, doctors and staff that took care of him when Andy and I couldn't. As a mother, I see the crucial importance of supporting ALL of our pediatric programs in Yakima -- and I want to do whatever I can to help these programs be the very best that they can be... for our children, for our families and for our entire community.
WHEN + WHAT :: 2022 event :: Yakima Summit 100K Kick-Off
on October 9th, 2022
Even though our big 100K for $100K run isn't until May 31st, 2023, that doesn't mean we don't have an equally fun outdoor event up our sleeves for this fall to try to get us towards our $100K goal even quicker.
I will be checking off 4 mountains in Yakima Valley in 1 day - October 9th, 2022 - and I'm welcoming the community to join me on any or all of these excursions to help us raise funds for our $100K Children's Miracle Network fundraiser!
I'll start my day at the Skyline trail in Selah, checking off the top of that rocky ascent and then shooting over to the top of Gracie Point before I make the loop back down to my truck.
My next mountain adventure will start at Snow Mountain Ranch where I'll will make my way up to the top of Cowiche Mountain before descending the Rocky Top side, running across Summitview Rd and over to the Cowiche Canyon Uplands trail system where I will finish off this stint at the Uplands parking area off of Scenic.
The final peak on my list for the day will be Cleman Mountain - which will showcase some of the most scenic views of the day!
Interested in Joining her for 1 or ALL of the peaks?
Below are the approximate distances and elevation gains for each of these runs/hikes in case you'd like to make a small donation and join me! I'll be keeping these jaunts at a talking pace, hiking the uphills and jogging the downhills and flats -- and eating ALL the snacks!
Skyline Trail + Gracie Point Loop :: approximately 12 miles, 2,020 ft of elevation gain
Snow Mountain Ranch + Cowiche Mountain + Rocky Top + Uplands Trail Point to Point :: approximately 11 miles, 1400 ft of elevation gain
Cleman Mountain Loop via Waterworks Canyon :: approximately 8.1 miles, 3,120 ft of elevation gain
WHEN + WHAT :: 2023 Finale event :: 100K for $100K
on May 21st, 2023
On May 21st, I will begin the 100k at the NICU entrance at Yakima Valley Memorial and then will wind my way up to the Cowiche Conservancy Uplands trailhead. From there, I'll hop onto those trails and make my way over to the Summitview Trailhead where I will then pop over to Rocky Top. Up and over Cowiche Mountain, I'll find myself at the CCC Snow Mountain Ranch trailhead. After some backroad running to Tieton, I'll run through town, then down the grade into Naches. After running through the town of Naches, I'll take the Yakima Greenway to Mapleway where I will head over to Selah. After a jaunt through Selah's town center, I'll make my way back to the Greenway. At Yakima Ave, I'll run through much of the city's center, and then will wind my way through town until I end my 100k at Children's Village.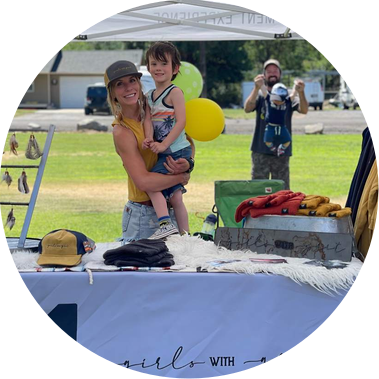 BRINGING OUR COMMUNITIES TOGETHER
We plan to have mini-festivals at each town that we run through (Tieton, Naches, Selah + Downtown Yakima), with food trucks, a few vendors and a donation table where our community can help us to reach our goal. These towns will also be my major aid stations as well where I'll get a few minutes to fuel up before I carry on with my mission.
You can also donate and run portions of this event with me -- I know I will thoroughly enjoy the company. :)
If you have questions or would like to be a vendor or volunteer at one of the mini festivals, shoot me an email at shannon@mahremade.com.
Thank you all for your supporting Yakima's pediatric programs.
Interested in learning more about Children's Miracle Network?
The funds raised for Childrens Miracle Network always stay local to support vital pediatric programs. Yakima Valley Memorial has been Central Washington's designated CMN Hospital since 1993.
Memorial's Neonatal Intensive Care Unit is the only place in Central WA that offers specialty care for at-risk infants (they treat babies from Kittitas County down through Prosser). The 15-bed, Level III Neonatal Intensive Care Unit treats more than 485 babies per year, which accounts for 15% of the babies born at Yakima Valley Memorial.
The Pediatrics Department at Memorial treats children and youth 17 and under for a variety of health concerns while providing support to their families. Last year the department cared for 1,300 patients.
Since it's opening in 1950. there have been over 140,000 births at Family Birthplace, averaging 2,500 births per year.
Children's Village is a regional integrated center for children with special health-care needs and their families, with multiple service providers all under one roof.