Women's Coached Cat Skiing + Schweitzer Trip
YES YOU CAN.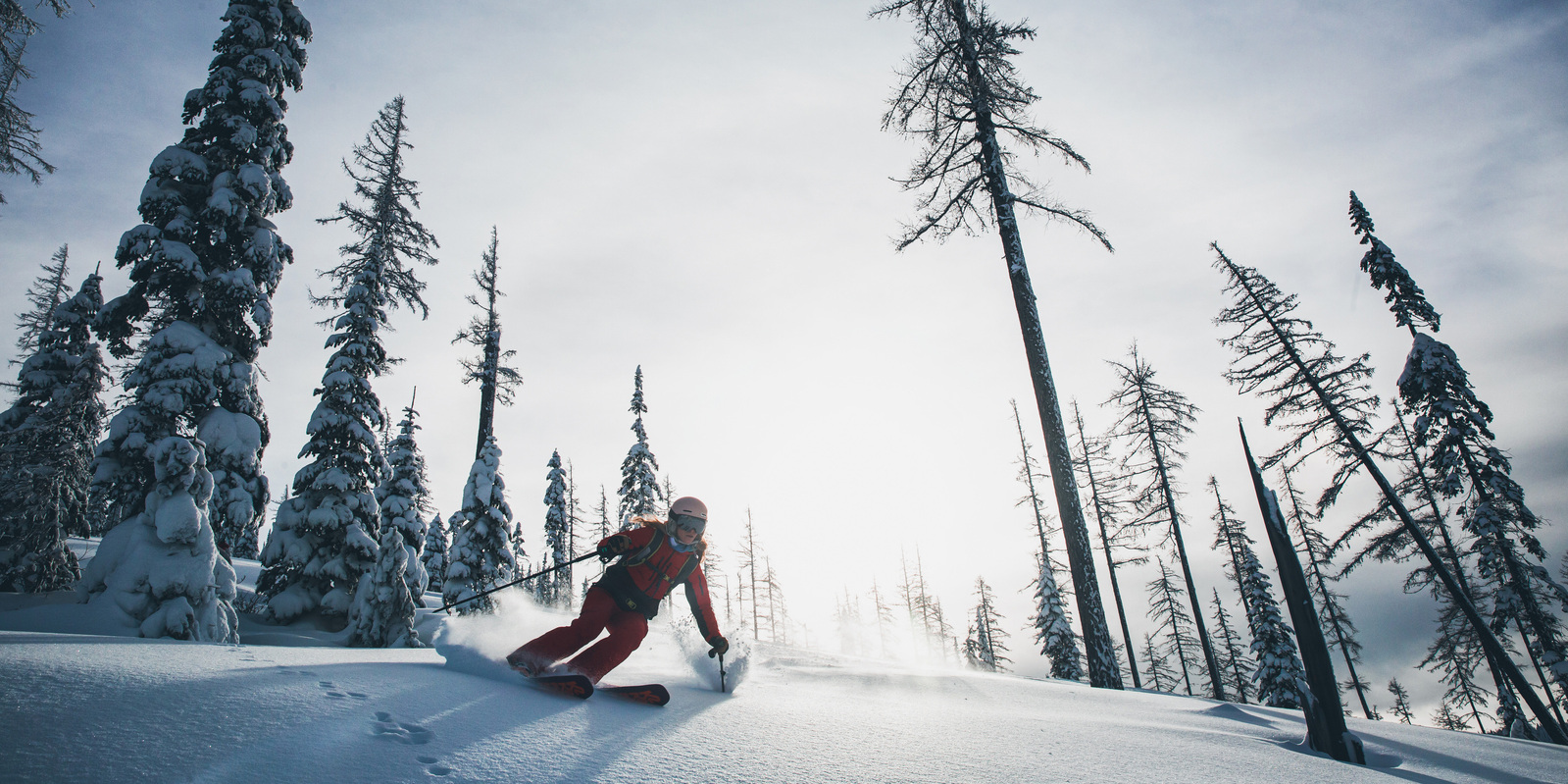 Improve your Skills, Gain Confidence, Have Fun
Join Shannon Mahre for 4 days of Coached Skiing in Idaho at Schweitzer Mountain with Selkirk Powder Cat Skiing.
A Glimpse into the Trip
Day 1 : Our first day on snow will be spent in-bounds at beautiful Schweitzer Mountain Resort. You'll be coached by Shannon for 2 hours in the morning as well as for 2 more hours in the afternoon after lunch. Then we'll all meet in the village for an Intro to Backcountry Clinic. Post clinic, its happy hour time on the patio - Kids are totally welcome.
Day 2 : Our first day of Cat-Skiing... Go TEAM! We meet up at 8:30 for beacon check (and another coffee if you need one!) at the front desk before we head up the chair. At the top, we'll ski on over to Selkirk Powder where our Cat(s) will be waiting to take us out for our day of fun in the Idaho Backcountry. Our day will consist of getting fresh tracks, logging some video and photos for you, seeing some epic views & getting coached all along the way. After our last run in the backcountry, the cat will drop us off at the top of the mountain and we'll all ski down to Schweitzer Village together just in time for another fun post-shred happy hour.
Day 3: Repeat Day 2 + More Fresh Tracks
Day 4 : You guessed it... repeat all the fun & stoke from Day 2 & 3!
Last year's trip was a BLAST!
Check out the video below to see some highlights from our 2021 trip!
2022 Trip Dates & Descriptions
:: January 30th-February 3rd ::
Family + Coed Cat TRIP :: Couples, friends and families (kids must be advanced-expert level skiers) are all welcome on these cats.
:: February 6th-10th ::
Women's Cat + Men's Cat TRIP :: For this trip, the ladies will have their own Cat with Shannon and the gents will have their own Cat with Andy for the first 2 days of Cat-Skiing. On the 3rd day of Cat-Skiing, we have the ability to bring the groups/couples together (if everyone is on board) so that you can show your spouse and/or friends all that you've learned over the past few days! If not, we'll keep the Cats separate all 2 days!
2022 Trip Pricing
1 day of coached in-bounds skiing at Schweitzer Mountain Resort
3 days of coached cat-skiing at Selkirk Powder + lunches those days
Intro to Backcountry Clinic
Free Access to our K2 Mindbender Demo Ski Fleet
Professional Photography & Video for you to have & share
Lift Ticket at Schweitzer Mountain Resort
Swag Bag with a GWG or MADE buff as well as products & discounts from our sponsors: evo, K2 Skis, Kate's Natural Foods, Varietal Beer, Trew, Superfeet, Gnarly Nutrition & More
Cost :: $2650/person
( Early Bird Pricing - $2500/person until June 1st, 2021)
*** If you cancel 60 days prior to your trip, you can get a full credit refund towards other clinics/lessons. If you cancel less than 60 days prior to your trip, credits may be lesser than the value paid. No Cash refunds are given for cancellations.
Need Childcare at Schweitzer? NO PROBLEM!

One of the many great things about Schweitzer Mountain Resort is it's amazing Childcare & Ski Lesson options.
Kindercamp is available for kids ages 4-6 years old & consists of all day flexible childcare, lessons, lunch, snacks, crafts, games, and fun for just $141/day.
Kids Lessons are also available for kids age 4-12 & Day Care is also available for kids age 4 months to 6 years.
Subscribe to Our Newsletter
Sign up with your email address to receive news and updates.