LAKE.RIVER.OCEAN.
Beginner-Expert, we've got a SUP Clinic, Lesson or Trip for You.
We are the only coaches in the Yakima Valley that teach our clients how to paddle on lakes as well as on rivers & the ocean - so if you are interested in getting on some moving water this year, we'll get you there!

SUP CLINICS & LESSONS
COACHES: Shannon + Andy Mahre & Sarah Roy

LEVELS: Beginner, Intermediate, Advanced, Expert
FOCUSES: stand up with confidence, stability skills, efficient paddling, flip rescue, water analysis & turning skills, stroke analysis, footwork, rough water skills
LOCATIONS: Yakima, Naches, Private Lake in the Yakima River Canyon, The Yakima River, Lake Aspen, Rimrock Lake, Whidbey Island
EXPEDITIONS: Utah + Montana
A Typical Day in one of our Intro to River SUP Clinics...
For these clinics, we start the day at a private lake in the Yakima River Canyon, honing your skills on the board as well as teaching you new techniques that you will use specifically on the river. After a quick snack, we'll head upriver and drop into the Yakima to guide and coach you during our river excursion. After 2 miles, we'll pop out of the river for a delicious, gourmet lunch at Canyon River Ranch. After our meal, we'll get back on our boards and make our way 6 miles down river. Along the way, we'll stop for snacks and cold beverages and sightseeing - and a bit of sunning time. We'll end our day where we started - on the grass at the private lake - as we enjoy an outdoor happy hour before heading home.
2024 RIVER SUP CLINICS
TIME: River -- 9am-4pm

COST: $310/person
***River Clinic includes clinic swag bag from one of our sponsors, lunch, happy hour appetizers/drinks + river paddle board, paddle & PFD/Safety Equipment Rental.
*** FOR PRIVATE LESSONS AND CLINICS, PLEASE EMAIL SHANNON FOR AVAILABILITY AND PRICING.
2024 Intro to River SUP Schedule
Schedule Coming Soon!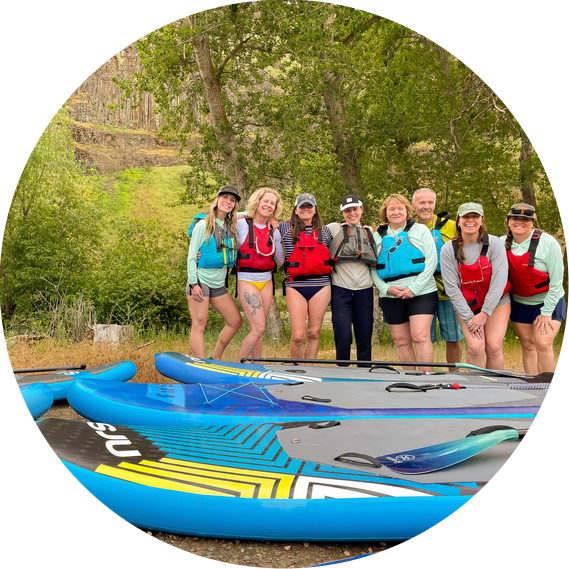 2 Day River SUP Adventure in the Yakima River Canyon
Join us for 2 days on the Yakima River in the canyon between Ellensburg + Yakima. We will start our trip off at a private lake in the canyon, teaching skills and building confidence on flat water before we head up river to drop in. Our first day, we will adventure from Ellensburg to Red's Fly Shop/Canyon River Ranch. The second day, we will venture from Red's to the lake that we started on the day prior. Both days will end in happy hour fun (drinks + appetizers included) for all parties -- All guests will also enjoy swag bags and lunch on both days of our trip.
***Use of our NRS River SUP boards, paddles, pfd's and safety gear are included with your registration.

Schedule your private 2 day adventure today! Contact Shannon for available dates and pricing.


SUP EXPEDITIONS :: UTAH + MONTANA
For 2024, we'll be heading to back to Utah AND Montana guiding Stand Up Paddle Board Expeditions.
Interested? Check out their individual pages (see links below).